Starting again in a new state can be an exciting adventure, but it can also be incredibly stressful without the proper preparation. Get ahead of that stress by planning your transition.
Use this handy guide from
Cindy Creamer
to help you navigate your move.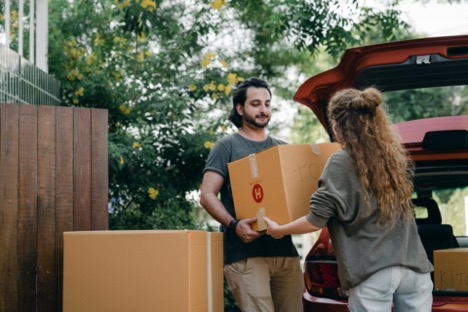 Written by: Hannah Simpson | Date: September 7, 2022 | Image via Pexels
1. Secure Your Next Job
The good news is that finding a job in another state has never been easier thanks to the widespread adaptation of video call interviews and remote work. If you're planning to work in the same position or industry, research ahead of time any regulation or law changes that might be expected of your role. You may need to obtain licensure to practice in your new state.
For some, a move to a new state can be an opportune time to pursue their entrepreneurial dreams. If you'd prefer to strike out on your own and start your own business, use the state's small business guide to help you accomplish all you need to get your company going.

Creating a thorough business plan is a savvy first step. By putting in the work on the plan ahead of time, you'll save yourself headaches and energy down the line because you'll already know how you're planning to handle situations. Growthink recommends including analyses of the company, industry, customer, and competition in your business plan, as well as your operations and marketing plans. What formation you're using, how you'll fund your business, and financial projections should also be included.
2. Find Your Dream Home
Like job-hunting, house-hunting across state lines has become much more widespread and easier to manage using video chat. Before you begin, have a clear set of expectations for any home you are going to invest in, including features that are must-haves as well as wants. Consider the size, style, condition, and location of the home you are interested in buying, and then get in touch with a professional to begin the hunt.
Apply for a mortgage preapproval to get an idea of how much lenders are willing to loan you and use an online calculator to determine how much mortgage you can afford in your budget each month. Research the cost of living in potential locales to see which works best with your projected budget. In Washington state, for example, both utilities and healthcare on average are less expensive than the national average, while groceries are about the same as nationwide.

After that, consider protecting your new investment by investing in a home warranty. To help you with your decision, read online reviews about experiences making a claim. Also, consider the costs if a major appliance – like the furnace or the AC – quit working in the middle of a blizzard or heat wave. In the long run, a home warranty just might save you a fortune. Getting the opinion of a home inspector is a good idea, as well.
3. Hire Professional Moving Services
Moving to a new state can be a logistical nightmare, costing you time and energy that could be better spent. Save yourself the headache and hire a moving company to take over the heavy lifting so that you can focus on the myriad other aspects of transitioning to a new life.

Research available companies and compare rates online to ensure you hire a quality company with reasonable prices. Depending on the company and the services you choose, you may be able to get movers who will not only transport your items safely and in a timely manner but pack and unpack them professionally, as well.
If you've been thinking of starting over in a new state, don't let fear of the transition hold you back. With the right preparation, you can make the most of your move and embrace the excitement without giving in to the stress of it. When you are comfortably living in the home of your dreams with a painless move behind you, you'll be grateful you made the leap.
Cindy Creamer specializes in the purchase and sale of primary and second homes as well as vacation and investment property. Call 843-298-2356.